Bespoke tailor made custom suits and shirts
The Background
Our personal branding exercises often led us to custom made suits and shirts, as most of the small details we required to create a brand weren't available off the shelf. However, this increased the price of our clients clothes considerably. We weren't satisfied that in order to create a personal brand our clients needed to spend 2 or 3 thousand dollars on a suit.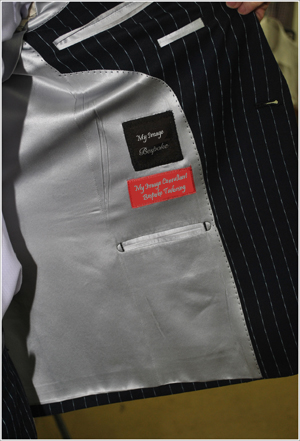 Inner linings are fully custom with choice of linings, piping and pick stitching
In addition we knew we could get custom made suits and shirts on the internet for much less, however after sampling a large range of suits and shirts we realised that the quality was not always something that we could recommend to our clients. Our clients needed suits that were beyond reproach. The Internet option also created the problems for our clients of measuring correctly and learning about all the other details such as vents and what they meant, it just wasn't feasible for most of our clients to order suits off the internet without our expertise.
We decided that the only way was to supply custom made suits and shirts ourselves. We went looking for a tailor that produced high quality suits and shirts, one that could supply suits and shirts custom made at wholesale prices. The tailors in Australia and those on Savile Row were too expensive. The tailors in Thailand, Sri Lanka and India were not producing the quality of suit that we wanted, so that left Hong Kong as the obvious place. A selection of the best Hong Kong Tailors have a reputation of very high quality suits that equal those found on Savile Row.
We found that the reason they can produce such high quality garments is that they have access to the massive labour force on the mainland. Producing a high quality suit is a time consuming manual process. After further investigation we found the actual tailors in Shanghai. They are a family company who have employed an English Master Tailor as their chief technical advisor. He started his career on Savile Row over 45 years ago. We found that this family have been making their suits in the traditional Savile Row methods and supplying the Hong Kong Tailors as well us other big brand names around the world for 30 years. After convincing them of the quality of our small company and how we could add value to the process, they were keen to have us introduce their Bespoke Suits & Shirts to our range of products.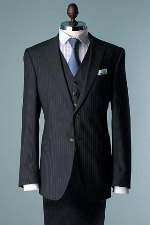 3 Piece Bespoke Suit
The family trained us personally on how to take the measurements and other details of their suits, and we are have now been working with the same tailors for over 4 years.
How to get your suit
Whether you are already a client of ours or not, the process is the same. We make an appointment for you to come in and we first do a mini personal branding, which includes analysing your colours, your body and face shape, and your personality. Then armed with that information we create "your business style" with you. Once the style is agreed we then measure you up and help you choose your fabrics. Nobody else is currently offering a service like this and it is more comprehensive than any of the tailors can offer you in Australia.
The next time we see you is when your suit is ready for a fitting. We make another appointment for you to come in and see us and we make sure the suit fits you in every aspect. At this stage if the suit fits you we package it up and you take it home. If further modifications are required we pin it up and send it in to a Sydney based tailor for further modifications.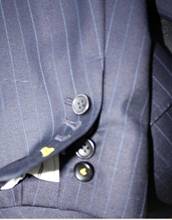 working buttons with contrasting stitching on the last button
What you get in the end is a suit completely designed for you, with no compromises. You haven't compromised on the style merely because the shops didn't have the designs you wanted, you haven't compromised on the fit and you haven't compromised on the fabrics, you have a suit completely designed and made just for you with the help of professional stylists.
To give you an idea of the cost of these suits, they start at $1100, that is for a fully lined Bespoke 2 piece Suit designed and created just for you and made from Super Fine 110s Merino Wool. Design extra's such as working buttons, monograms, and margin stitching are included. We personally guarantee that these suits will be the best suits you have ever owned. If you are not completely thrilled with the suit, we will have it fixed or re-made completely.
We also have custom made shirts starting at $210.
Call us now on 0413 898 776(Annalisa) or 0416 014 907(Adam) for an appointment.