Men's MAKEOVER - SYDNEY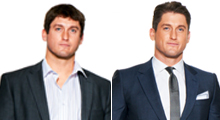 Makeovers can be for a business, casual look or both

Case Study
Winter Wardrobe Funky Male
I had the great privilege of doing a 2.5hr shop with Raymond today for his Winter wardrobe. He's young, dynamic, arty, likes to look a little bit different and have fun with colour. We developed his wardrobe around the pantone colour of the 2015 'Marsala' , blue, black and white. We purchased a blazer in blue, marsala bomber jacket, 4 T- shirts, marsala 'jeans', black 'jeans', black dropped crotch pants, 2 long sleeved t-shirt type tops, 2 jumpers (marsala and purple stripe and a thicker black and marsala knit), and a scarf in blue, marsala, black and white. We also purchased a necklace and a bracelet and some Italian black boots. Total spend for the winter wardrobe approx. $1800. In the changing room we photographed 17 combinations and that's without the black 'jeans', anything else he may have in his wardrobe and certainly not all possibilities. He has a black coat from our shop for last winter which will be fabulous over the top of these. Thanks to Raymond for letting me use the pictures and his experience for this case study.
Comment
Hi Annalisa,
My new summer clothes are great, love them to bits, so comfy and as usual nice compliments for my styling. A lot of people have been randomly coming up to me and complimenting me on my clothes. Great ice breaker!
Cheers,
Raymond Sanchez, Jan 2015
For more great comments from our awesome clients visit our testimonials page.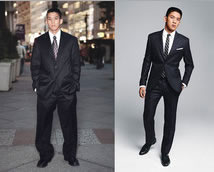 Discovering styles that suit and fit.

TESTIMONIAL
The image makeover service offered by Annalisa took me by surprise when I realised just how much money I was saving buying the right clothes and how much better I felt when I was wearing beautiful clothing that impressed others.
She diligently helped me choose the right colour scheme for my complexion, body type and temperament and I came away feeling a lot more confident, especially when I was complemented by others on how elegant I looked. I feel that Annalisa's service represented excellent value for money, as I could not have gained so much professional knowledge on my own, nor could I have avoided making poor clothing choices if no one had held my hand and taught me how to dress properly
I would confidently recommend Annalisa to potential clients.
Sam Bush Feb 09
My Image Consultant Sydney's makeover will transform your look, create a style that you can define in words, teach you how to maintain your look and above all give you confidence in the way you dress.
FULL MAKEOVER
We start this makeover by discovering the essence of who you are. Portraying a true image of ourselves is the surest way to stepping out with confidence.

The key to creating an individual style is to be able to describe your style in words. Once we have the words we are free to interpret them through the cut and style of the clothes you wear, your hairstyle, facial hair and even via the way you carry yourself.
When creating your image it is essential that we work within the framework of your body shape and the colour of your complexion. Our next step is to take a look at what colours work best for your complexion, your body's assets, your body shape and your face shape.

Once we are armed with all the information we need, we overhaul your wardrobe. Firstly by looking for clothes in your wardrobe that have the potential to work with your new image and then by putting together outfits from those clothes. There may or may not be sufficient clothes in your wardrobe to create full outfits if there isn't we will start to build a shopping list of the items needed to complete the outfits.
After discovering the exact extent of your current wardrobe we will be in an ideal place to complete a shopping list. We will then hit the shops to complete your wardrobe. Having your fashion stylist beside you while shopping will ensure you get all the right items that precisely complement you and your new style perfectly.

The last step of the process will be developing the optimal hairstyle and facial hair for your new look. We work closely with a great hair stylist Jim Ayouz from Hair Show in Bondi Junction. We make sure Jim is fully briefed in order for him to create a style that works with your face shape, complexion, personality and lifestyle.
Makeover Package
Total Package is for up to 10 hours with the Image Consultant which can be completed over a couple of days or can be spread out over a few weeks.
The total investment for the makeover is $1350 (does not include hair cut/style or any clothes you need to purchase).
For more information or to make a booking, call Annalisa any day up until 9pm on 0413 898 776. Or email us through our contact page.
Gift Voucher
To purchase a Full Makeover Gift Certificate through PayPal. Fill in the Name and Address fields and click Buy Gift Certificate. Your Full Makeover Gift Certificate can be printed directly on your printer or we can mail it out to you if you prefer.