Personal Shopper for men - SYDNEY
Personal Shopper Services for men provided by My Image Consultant Sydney
Frequently asked questions
Q. What if we don't find the things we are after?
A. We minimise the chances of this happening by being up to date with what is in the shops, and doing pre-shops when required. Sometimes things you want are just not in the shops at the moment, if this is the case we can get you made you measure, tailored clothing for you.
Q. I am worried that 2 hours will quickly be wasted, traipsing from shop to shop, and I will have wasted my money without solving any of my problems.
A. This very rarely happens, we know what shops to go to and we don't waste time getting there, we are fully aware that you are paying by the hour and we make sure the time is spent wisely..
Q. What if I am not in Sydney?
A. Book an appointment with us next time you visit Sydney, we have had clients from as far away as Russia, and Sydney is a wonderful place to visit.
Q. Do you have any Qualifications?
A. Yes, Annalisa Armitage our Personal Shopper is an AICI CIP. That is an internationally recognised Certified Image Professional, at last check there were 1300 Image consultants across the world who are members of AICI (Association of Image Consultants International) of those there are only 130 Image Consultants certified as image professionals (CIP) so you can rest assured that you are being looked after by a true professional.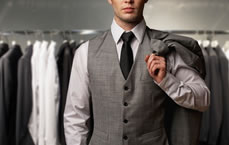 Some nice comments from our fabulous clients
COMMENT
Hi Annalisa, Thank you so much for the fantastic days Adrian and I had with you. You were just so easy going I actually had fun doing something I usually dread - shopping! We learnt so much and as we venture further trying new things we're getting great feedback from our friends and colleagues.
We wish you all the best too.
Shelly and Adrian, March 2011
COMMENT
"I am loving the ease of not trying to work out which tie goes with which shirt. It's given me an extra 5 minutes sleep each workday! :) …… Thank you again for your time. It was fabulous to get your input on what works (and doesn't work) and I feel empowered to shop and dress with more confidence."
Matt Ryan June 09

Call personal stylist Annalisa Armitage any day up until 9pm on 0413 898 776 to discuss your needs.
COMMENT
"It feels great wearing the new clothes… I'm surprised about how much of a pick-me-up it has been. There's not a single item that I regret buying so I think that's a huge win!"
Jason, Sep 09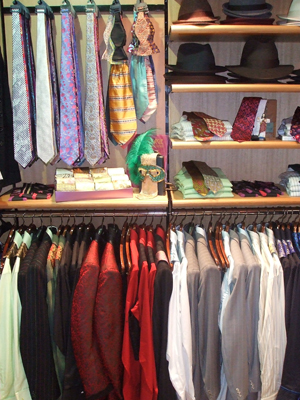 Personal Shopper services provided by My Image Consultant Sydney are one of the most rewarding and beneficial services we offer. To have someone by your side when you are shopping is always comforting, but to have complete confidence you need someone you can trust. The shop-assistants have an ulterior motive and will say you look great in anything just to get a sale. Your friends, having your best interests at heart, will always be honest and do their best to help you and yet they will tend to advise you to buy things that suit them not you, as that is what they think looks good. Even the friends with the best fashion sense will only know what is good for themselves. Only a professional image consultant with no ulterior motives or incentives will be able to give you the unbiased advice that you need when you shop for clothes.
Personal Shopper Integrity
My Image Consultant Sydney does not take any commissions from shop keepers, so you can be confident in our impartiality. If a store owner in Sydney or anywhere else offers a kickback, we accept it appreciatively and pass it directly on to our client as a discount on the clothes they purchase. In this way it is not possible that it can influence our advice and you can rest assured that we are impartial.
Some personal shoppers do take kick-backs from shops, however you can usually tell from the prices they charge. I would strongly advise not to go with another personal shopper for the reasons of price. It will just end up costing you more in the end as they will either push you into buying things you don't need or they will be pocketing all the discounts themselves.
A good personal shopper will actually save you money. You won't buy any clothes that aren't fabulous on you so they won't be wasted in your wardrobe. This will easily save you the cost of our services.
If that is not enough incentive, we have secured discounts at several stores in Sydney, including Marks, Aquila, Ted Baker and Calibre. Which should save you even more when you shop with us. These discounts do not influence us in the slightest as we don't benefit from them at all.
Our integrity is important to us, it is important that we feel good about what we do, not only for our clients sake, but for our own piece of mind and so we can sleep well at night. We are also bound by the AICI Code of Ethics and Standards so you can trust that everything we claim is 100% true.
Personal Shopper Confidence
Our fashion stylist Annalisa is an expert finding clothes that are right for you, if something doesn't look good she will not only notice, she will be able to tell you exactly why it doesn't and have a solution for you. So when you do make purchases you will make them with the absolute confidence you get from having the complete picture.
Personal Shopper Value
Some people love shopping and consider themselves amateur personal shoppers, but others hate it and see it as a waste of time. We make shopping for clothes a breeze, and because it is so easy it becomes much more fun. You will find that instead of taking days and days to find all the outfits you need, you will be able to do it in three or four hours, saving you time, money and frustration.
When you are shopping with My Image Consultant Sydney you are much more likely to buy clothes that you love, you won't be tempted to buy something that does not suit you just because it is reduced to half price and this will ensure that shopping with us actually saves you money as you are not buying things you won't wear.
If you don't love shopping you probably don't have much to wear, you may be finding it hard each day to get dressed, and you probably don't feel overly confident when you do go out. My Image Consultant Sydney can solve all your problems while saving you time and money. It may sound a little indulgent to have your own personal stylist, like the movie stars and American politicians, however, when you think about it, it is really a wise financial decision.
My Image Consultant Sydney charges $360 which covers you for 2 hours of personal shopping, if you are after something unusual or you are on a strict time restraint we can do a pre-shop so we know where we can find the items you are after. Extra shopping hours are charged at a rate of $130 per hour on a pro-rata basis.
To make an appointment with My Image Consultant Sydney email us from our contacts page or call Annalisa directly on 0413898776
Click here for more nice comments about our personal shopper and other Sydney services.
Gift Voucher
To purchase a personal shopper Gift Certificate through PayPal. Fill in your name and your recipients name and click "Buy Gift Certificate"