IS IT TIME TO BECOME SOCIALLY SMART AND SAVVY?
Be Quick - Get your copy today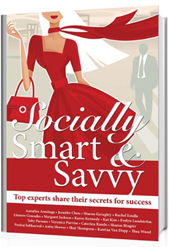 Annalisa will personally sign each copy purchased
In this book co-authored by Annalisa Armitage, is a compilation of secrets by top authorities on image, etiquette and style. Each expert in their specialized niche shares their guidance on how to be more Socially Smart and Savvy, culminating in a book with an exquisite and invaluable wealth of knowledge.
Being Socially Smart and Savvy is much more than handing out business cards at networking functions or knowing which fork to use at a formal dinner. It is about creating a consistently recognizable personal brand, communicating effectively, building a network you can rely on and presenting the right image every time.
This Incredible resource is packed with great ideas to take your social skills to a whole new level. Whether you are an experienced professional or a university graduate just starting out in a new leadership role, you are about to discover how to maximize your image and leverage your contacts to grow and prosper personally and professionally.
"Socially Smart and Savvy is a must have resource for anyone who wants to be a leader in their field, be influential in their social circle and be the kind of person other people want to be around. These top experts share what you want to know to build the skills that will get you to the front of the line wherever you go."
Deborah King - Founder of the Final Touch Finishing School
What's Inside?
Who Are You
Personal Branding - Is What We See, What We Get?
Your Image Matters
How and Why Your Image Matters
Are You Ready for Your Close Up?
Best Style Practices for the Camera
Savvy Interaction
What First Impression does Your Verbal Image Make?
Poised Under Pressure
How to Remain Poised Under Pressure!
Business Smarts
Important Social Graces to Know in Business - and Beyond

Social Mixology
Meet Mix and Make the Most of Your Connections
Solutions Inherent in You
Using a Mantra to effect change
Influence
How to Create It and How to Keep It!
The Language of Shopping
Understanding the Multidimensional Complexity of Your Style

Suits to Suit
How to Make Your Suits Work for You

Accessorize! Accessorize! Accessorize!
Accessories are Essential in Establishing Your Image and Brand
Love the Space You're In!
Creating the Space that Reflects Who You Are
Be Technologically Savvy
Online Etiquette
The Etiquette of Dining
Gaining Confidence Through Knowing the Rules of Dining
Entertaining and Being the Gracious Host
Planning the Perfect Soirée
Wine Savvy
Understanding The Intricacies of Wine for Social Savvy
Self-Change through Self-Love
Manifest the Body and Life of Your Dreams
Click here for Annalisa's professional website www.annalisaarmitage.com
Click here for more on corporate image and professional speaking
Click here for more on colour and style consultations
Click here for more nice comments from clients