Colours
I was shopping with one of my fabulous clients yesterday and I was struck by the sheer quantity of black and grey in store for winter. It's so black outside. Please let's have a bit of colour I was thinking and the next thing I see is a shock of orange and a splash of cobalt. I must also acknowledge that I am enjoying the abundance of navy for suiting which I am hoping will long continue. Blue is the new black of course!
Along with these pops of bright there is the occasional khaki and burgundy to keep with the traditional autumn colours and lots and lots of grey. Did I say that already? Light grey, mid grey, dark grey, black and white mixed together to look like grey from a distance. Grey suits, grey jeans, grey jumpers, grey cardigans, grey skirts, grey boots and grey shirts. The perfect grey for cool skin tones. The majority of the greys are cool – more blue than yellow, as apposed to a grey that leans towards a brown. Dress in different colour depth and textures for an elegant look, use it as a base with the orange as a pop of colour for a more dramatic look.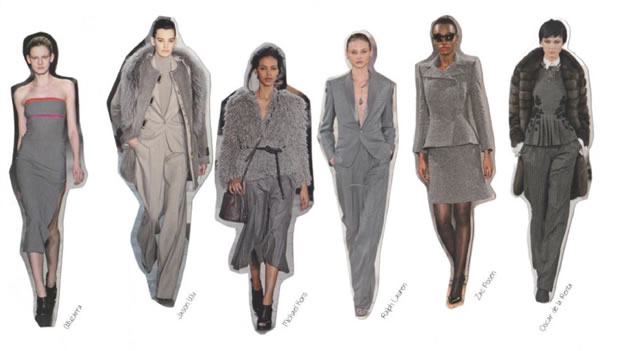 White
Along with these colours we are also seeing an abundance of whites or light grey for winter. This trend is being labeled the Frozen trend inspired by the movie not the weather. I love the idea of a white coat for winter with its impractical nature.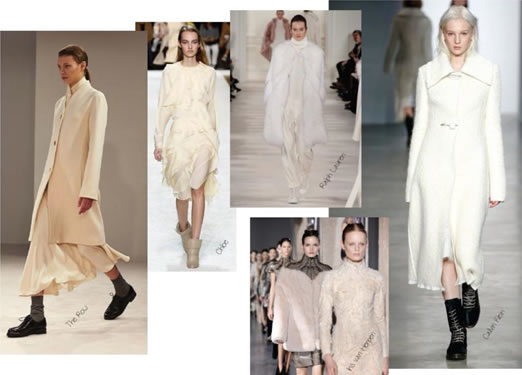 Styles
Capes and trenches are the top layer trend statements. There is a trench for everyone and perfect for the Sydney climate that is not so cold. Choose the level of structure in your trench that suits your personality and a colour that will work over your entire winter wardrobe. (Dominant trench colours the season are navy, grey and camel).
The cape. I am not sure if I think these are really stylish or that they should remain exclusively in children's fairy tales. At least these are trending only in black and grey but have been seen in red.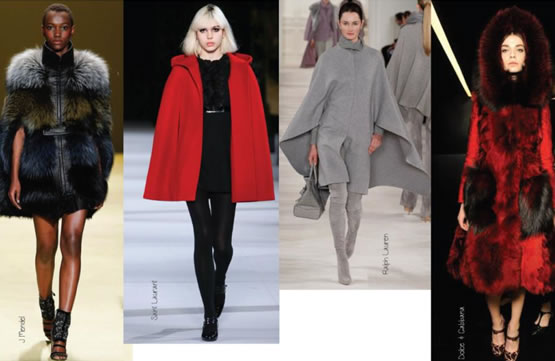 Sequins
Jewel and sequin encrusted everything. How well will it survive everyday wear – of course it wont – just made for the runway. Actually I have seen some rather lovely items in the shops but worry for the itch factor, the scratch factor, getting mid to long hair caught in them and of course losing one means the items is no longer wearable because you cant find where you put those extras that came in that little plastic bag with the spare button. They look gorgeous though! Definitely a luxury purchase – perhaps justify the spend with the thought that you can cancel your gym membership as they are so heavy to wear you will have done your work out.
Culottes
For the tall skinny ones (I think there maybe three of you out there), try the culottes trend. Yes with heels and yes with a tight/fitted top. No hair braids or knee length boots unless you really did keep them from the 70's and want to embrace the fact that 'some things do come back into fashion'.
It's the perfect time to review your wardrobe and get ready for the cooler weather. What did you love last winter what have you worn to death and what's new and exciting for you to adopt? I can help you set a time, get it done and feel fabulous when the weather is dreary! Call or email and we'll make it happen.
Happy Winter!