Personal Stylist prices and gift vouchers
Purchase Personal Shopper Gift Voucher
To purchase a personal shopping gift voucher through PayPal. Fill in your name and your recipients name and click Buy Gift Certificate.

The benefits of a facial or massage can last a few days, the benefits of a manicure or pedicure can last for more than a week but a gift voucher for an image consultation can last a lifetime. The only dilemma is which service to choose?
If you wish to buy gift voucher you can read the description of each of the services and purchase online via PayPal, you don't need an account with PayPal, you can just pay by credit card.
Instant Gift
After purchasing a gift voucher online you will receive an electronic version of the gift voucher immediately. You can then simply print it on your own printer and present it to the lucky recipient. If you prefer to receive it in the mail we can print it for you and send it via Australia Post.
Personal shopper
services and prices
You can't trust a shop assistant to give you sound advice, they are always happy to sell you anything. Friends aren't much help either, even though they have your best interest at heart, 90% of the time they will advise you to buy the things that would look great on them but are not likely be best for you. Even people that look stylish and "really well put together" are usually only experts on themselves, even though they don't realise it. To have real confidence in what you are purchasing you need the unbiased advice of a professional unbiased personal stylist.
The fashion stores are a complicated maze of styles and colours, most people buy fashion items that they end up not wearing, it is all too hard. If this is you, It is time to call personal stylist Annalisa Armitage AICI CIP to help you out.
Annalisa knows the shops in Sydney like the back of her hand. She will always find the best places to shop for your body shape and size. Her keen sense of style will lead her to the best fashion items for her client, always keeping one eye on the outfits she can create for them.
Our personal stylist will show you the best way to wear certain items and what to wear them with, and give you an expert honest opinion on what looks good and what doesn't. Most importantly you can trust that our personal stylist is 100% unbiased and only has your interests at heart. Unlike many personal shoppers she will never take a kick-back from the stores. Any incentives we receive will be given directly to you in the form of a discount on your clothes. We currently have several stores providing discounts to our clients.
Personal shopper consultations are priced from $380* for 2 full hours, additional hours are priced at $150* per hour. Three to four hours with the personal shopper is usually enough to build an entire season's wardrobe.
There is no time like the present! So give our personal stylist Annalisa a call directly on 0413 898 776 and book an appointment. Or contact us via email. To purchase a gift voucher for a personal shopper service see the column on the right.
* There is a 10% surcharge if you require a weekend consultation. For gift vouchers the extra 10% is charged at the time of redemption.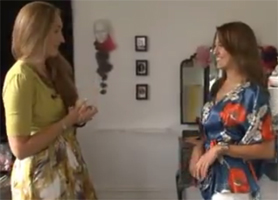 Personal Stylist Wardrobe Review
Purchase a personal stylist Wardrobe consultation Gift Voucher
To purchase a wardrobe consultation gift voucher through PayPal. Fill in your name and your recipients name and click Buy Gift Certificate.
Our personal stylist wardrobe review is for those people with a full wardrobe and nothing to wear. If you know you need to give your wardrobe a good going over, but you don't know where to start. It's time to call in the expert.
Our professional image consultant and personal stylist Annalisa can help your wardrobe in many ways but most importantly she will help you put outfits together from your wardrobe that will look great on you. We call it shopping in your wardrobe and it is one of the ways that hiring a personal stylist will actually save you money.
Once this is complete she will take pictures of all of your outfits. The photos can then be organised into different categories to fit every occasion. When you get dressed in the morning all you do is decide on what your doing that day, then choose an outfit from the appropriate category, you will never have that I don't have anything to wear feeling again.
Our personal stylist wardrobe review is an inspired way to take control of your wardrobe and a great way to cleanse your wardrobe of all those clothes you don't wear and organise your wardrobe in a way that you can easily find great outfits to wear. It is also a fantastic way to rediscover some items that you forgot you had and learn to use them with other items in your closet. We can also help to put together a shopping list of items you need to complete your wardrobe. You can purchase a wardrobe review for as little as $380* for 2 full hours, additional hours are priced at $150* per hour. Annalisa will travel anywhere in Sydney so call her on 0413 898 776 to make an appointment. Gift vouchers are available in the column to the right.
* There is a 10% surcharge if you require a weekend consultation.
Comments:
Hi Annalisa,
Thank you so much ....It (wardrobe consultation) was such an instructive and cleansing 3 hours. It has been so long since I've done something for me, so it was chicken soup for the soul. I'm now delighted every time I open my wardrobe and see how small it is now. I love a good spring clean.
Thank you again, It was lovely to meet you.
Cheers Again,
Christina Temme (Sydney)
Christina engaged us for a wardrobe consultation in June 2015.
Thank you so much Annalisa! I have had a great time today. We actually looked at a lot of websites and spoke to a few different consultants but I always felt that you were the best fit for me. After reading the website descriptions and all the lovely comments and speaking with you on the phone, I had a certain idea in my head of what the consultation was going to be like. I was not disappointed; you have completely lived up to my expectations. I have always stood in front of my wardrobe and thought I have nothing to wear and now, without going shopping, I have almost 30 new outfits using many clothes from my wardrobe that I have never worn before.
Thanks Again, You are a genius.
Simone – Maroubra
Simone engaged our personal stylist for a wardrobe Consultation in Feb 2015
Hi A,
Thank you, I got the album (photos of her outfits). It is very handy. I really feel renewed about my wardrobe and adding some new accessories to give my outfits a lift. I have been on an online shopping spree and have blown the budget, but my choices were a lot more informed after our session and everything I've bought works really well.
Thanks again!
Warm regards,
Helen (Sydney)
Helen engaged our personal stylist for a wardrobe review in March 2011.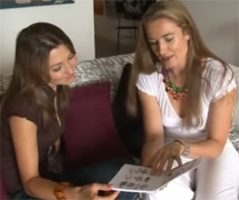 Personal Style Consultation provided by My Image Consultant Sydney
Purchase Style Consultation Gift voucher
To purchase a Style Consultation Gift voucher through PayPal. Fill in Your Name and your Recipients Name and click Buy Gift Certificate.
Defining your style in words is the first step in developing your own unique style. Without being able to put words to what your style actually is; you can't expect to be able to make clear decisions on clothes purchases or even just about getting dressed for the day.
Defining your style in words is incredibly liberating, it allows you to experiment with who you really are, it gives you clarity when making decisions and it gives you an overall sense of self. However, It can be difficult for most people to get to the core of who they are. How do you make sure you are defining your real style? The sense of yourself that you are happy to show the world?
In order to find your style, most image consultants or personal stylists will work with a set of defined styles and fit you into one or two categories based on a set of criteria. After using this method for many years Annalisa has found that people don't fit neatly into categories, there is always something unique about people, it might be subtle, but that little unique quality is usually the most important part. After consulting and training with some of the worlds best image consultants, Annalisa has uncovered a unique way to find the true sense of a persons style.
In a personal style consultation Annalisa will help you to define your style in words and also help you to discover the cuts and styles of clothing that work with your body shape. You will also learn how to avoid clothes that highlight your problem areas, and how to maximise the areas of your body that you would define as your assets.
A Personal Style Consultation cost as little as $380* for 2 hours. For an appointment call Annalisa Armitage AICI CIP on 0413 898 776. Don't leave it any longer, develop your own personal style now and start walking out with confidence.
* There is a 10% surcharge if you require a weekend consultation.
Comment:
Hi A,
After I left you I went to David Jones and bought two beautiful designer dresses (on sale) which were in my colours and they look great! I also purchased a few items of make-up according to the things you advised and it makes a difference. I had my first TV appearance yesterday and it went well!
Samantha Keen, Sydney.
Samantha engaged My Image Consultant Sydney for a colour
and style consultation in Jan 2008.
Testimonial
Geraldine bought a shopping session for her adult daughter Alice who hates shopping, for a birthday present. Geraldine came along too for the experience. This is what she said after the session.
"Alice was really thrilled with the day and felt very spoiled and appreciative of the opportunity. Thank you so much - I feel so lucky that we found you as I just googled stylists. You were very professional, friendly and listened well to what Alice had to say without putting any pressure on her to purchase any particular thing. Also, we enjoyed your relaxed and easy going personality which made the afternoon lots of fun. I am thinking of perhaps organising a session for myself sometime next year! Many thanks Warm regards Geraldine November 2016
PERSONAL COLOUR CONSULTATION
services and prices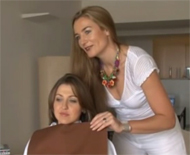 Colour Consultation provided by My Image Consultant Sydney
Purchase Colour Consultation Gift Voucher
To purchase a Colour Consultation Gift voucher through PayPal. Fill in Your Name and your Recipients Name and click Buy Gift Certificate.
Colour is the first thing you notice about a person, and as a first impression the impact can be extremely powerful. Colours effect such things as a persons mood, they can also effect a persons perceived body shape and age, and how healthy a person looks.
A My Image Consultant Colour Consultation involves analysing the unique colour combinations of your skin, eyes and hair as well as your lifestyle and personality resulting in a set of colours and colour combinations that will make you look more radiant, healthier, younger and as a result more beautiful.
The right colours and colour combinations are only part of what you will learn at a My Image Consultant Sydney colour consultation. Just as important as the right colours are the right contrast levels. High contrast levels give a sense of power, however they often leave other people feeling inferior, while low contrast levels can leave you looking washed out, depending on your colouring. A My Image Consultant Sydney colour consultation will equip you with the knowledge on what contrast levels to wear and when to wear them.
When shopping for clothes, makeup and jewellery the amount of choice can often seem like a minefield. With the knowledge of the correct colours and contrast levels you will suddenly be able to quickly weed through all the things that don't suit you, and forever more, have the insight and confidence in shopping that you have never experienced before.
Colour consultations cost just $395*. Add a wardrobe review for $150 per hour. Call personal stylist Annalisa Armitage on 0413 898 776, get your colour analysis done now and learn how to use colours and contrasts to your advantage.
* There is a 10% surcharge if you require a weekend consultation.

Testimonial; Kassandra Singh. Sydney June 2009.
"Before I met Annalisa 2/3rd's of my wardrobe was black as I never felt comfortable wearing coloured outfits and found it difficult to mix and match colours. After having a colour consubstantiation and learning what colours suited me and the image I wanted to portray it all came together. I have lost count of the number of people that have stopped and told me the colour I was wearing really suited me. It has given me the confidence to venture further into the world of colour and have never looked back.