MAKEOVER - SYDNEY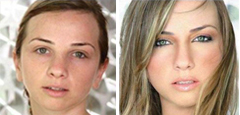 Makeup and hair is just the start *
Some Nice Comments from clients
Hi Annalisa,
'Yesterday was the first day of the rest of my life! I spent the whole day shopping for me only and not the kids (this has never happened). As you know, I previously hated the thought of shopping, had no patience whatsoever and was left in tears of frustration at buying things I would never wear or looked horrible. That has all changed. I enjoyed flicking through my colour palette & matching clothes, earrings, rings & scarves. Shop assistants did not harass me as I looked like I knew what I wanted… bliss! I found shops that did not carry the "right" colours and I found shops that had everything I need. I now have a couple of favourite shops and the others…. well, I wont even waste my time going in there ever again. My shopping experience is now personal. To clarify, it used to be about trend or what looked good on others. Now, its all about me & what I look good in & I can't thank you enough for that. I feel great!"
Tracey, Sydney.
(Tracey had a makeover in May 2011)
Testimonial
"I had a wonderful (makeover) experience with Annalisa. I was a little apprehensive beforehand as I thought an "Image Consultant" would be judgmental of a 40-year-old frump with no idea of style. I shouldn't have been at all concerned. Annalisa made me feel very comfortable and I felt completely secure about letting my guard down. By the end I walked away feeling good and positive about myself ..... I feel more confident..... Annalisa is professional, knowledgeable, friendly, sincere and a great ambassador for the industry."
Allison Payne, Sydney.
Allison engaged My Image Consultant Sydney for a Makeover in Dec 2007.
For more great makeover comments from awesome clients keep scrolling down or visit our testimonials page.
My Image Consultant Sydney's makeover will transform your look, create a style that you can define in words, teach you how to maintain your look and above all give you confidence in the way you dress.
FULL MAKEOVER
We start this makeover by discovering the essence of who you are. Portraying a true image of ourselves is the surest way to stepping out with confidence.

The key to creating an individual style is to be able to describe your style in words. Once we have the words we are free to interpret them through the clothes you wear, your makeup, your hairstyle and even via the way you carry yourself.

When creating your image it is essential that we work within the framework of your body shape and the colour of your complexion. Our next step is to take a look at what colours work best for your complexion, your body's assets, those body parts that you would rather hide, your body shape and your face shape.

Once we are armed with all the information we need, we overhaul your wardrobe. First by putting together outfits in your wardrobe that work with your image, complexion and body shape. Most clients are surprised by how many great outfits we can discover.
After discovering what you have in your wardrobe we will also work out what is needed and make a list. We then hit the shops to complete your wardrobe. Having your fashion stylist beside you while shopping will ensure you get all the right items that suit you and your new style perfectly.

We look at your makeup and update it as required, coaching you on how to apply it for best effect, but don't worry, if you're not a makeup person we are not going to be insisting on things you're not comfortable with.
The last step of the process will be the hair. We work closely with a great hair stylist Jim Ayouz from Hair Show in Bondi Junction. We make sure Jim is fully briefed in order for him to create a style that works with your face shape, complexion, personality and lifestyle.
Makeover Prices
Total Package is for up to 10 hours with the Image Consultant which can be completed over a couple of days or can be spread out over a few weeks.
The price for the makeover starts at $1580 for 10 hours plus around $100 for a new hair style, cut and colour (does not include any clothes you need to purchase).
For more information or to make a booking, call Annalisa any day up until 9pm on 0413 898 776. Or email us through our contact page.
Makeover Gift Voucher
To purchase a Full Makeover Gift Certificate through PayPal. Select the hours required, Fill in the Name and recipient fields and click Buy Gift Certificate. Your Full Makeover Gift Certificate can be printed directly on your printer or we can mail it out to you if you prefer.
PERSONAL BRANDING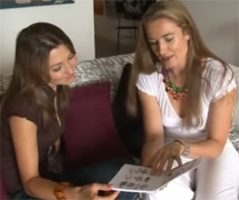 Working out styles that suit

Testimonial
Annalisa Armitage is style personified; fortunately she is also terrific at sharing her knowledge of how to look your very best and feel even better, no matter what your age, shape or budget. Annalisa and I embarked on a makeover program that took me through my personal style (including a colour and style analysis); hair and grooming; nails; makeup; daily basics; wardrobe (casual and business); accessories; shopping and bringing it all together. She was patient, enthusiastic and gave me a confidence that I only wish I had learned when I was in my 20's or 30's. I can not recommend Annalisa strongly enough. The Hollywood set have their image consultants - men and women of Australia, now it's our turn and Annalisa is showing us how!
Deanne Tindal, Sydney.
(Deanne engaged My Image Consultant Sydney for a Makeover in June 2008)
Personal branding is a mini makeover, it focuses on just one part of your life, whether it be your personal life or your 9-5 work life, or even smaller parts of your life such as your casual Friday wardrobe.
We start by defining your style in words, focusing on the part of your life you want to update, then we do a mini colour analysis, from which we will choose a few colours that we will build your new look around. We will then do a body shape assessment to help us focus on what styles will make you look best.
Once we are armed with this information we go shopping either in your wardrobe or at the shops whichever suits your situation best for 3 hours to create the new "look".
When complete you will have a clearly defined look and you will be confident that you can replicate and add to it as you need.
personal branding makeover prices
The Personal Branding makeover costs $750, and does not include hair styling or any clothes you may purchase. To make a booking or for more information call Annalisa directly on 0413 898 776
personal branding makeover Gift Voucher
To purchase a Personal Branding Makeover Gift Certificate through PayPal or credit card. Fill in the Name and Address fields and click Buy Gift Certificate. Your Personal Branding Makeover Gift Certificate can be printed directly on your printer or we can mail it out to you if you prefer.
Makeover - the first step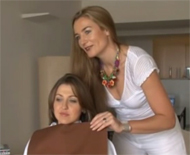 Draping help find the colours that suit
Testimonial, Lauren
"My experience with Annalisa was fantastic! She has opened my eyes to the possibilities of what I can wear. I now have a clear idea which colours best suit me and the way I can combine clothes to actually create an 'outfit'. Clothes shopping for me is usually a source of great frustration, but with Annalisa it was fun and productive. She has given me the tools to move forward. I would highly recommend her services to all my friends and family. If you are considering using a personal stylist- GO WITH ANNALISA!!"
Lauren, Gladesville.
(Lauren experienced a Full Makeover with Annalisa in Feb 2012)
A makeover can be as dramatic or as subtle as you want and it really comes down to what you're trying to achieve. The first step is a phone conversation with Annalisa and during this conversation she will understand what you are trying to achieve and then develop a plan to achieve it. A dramatic makeover can be achieved in a very short period of time or staggered over a number of weeks. Call Annalisa on 0413898776 to discuss your needs.
Call Annalisa on 0413898776 to discuss your needs. Or contact her through our contacts page
Makeover Case Study Samantha Fallas
With 10 days notice before she needed to get on a plane to get into the studio with Jordan, Sam needed help to prepare! Her manager sent her from Adelaide to Sydney for 2 days and we shopped and groomed her to give her the LA recording artist look. The brief was to get her 3 outfits, develop her style and have her ready for anything.

First stop was Wheels and Dollbaby where we bought THE going out dress in red with black netting, with the slightest nod to a ballet dress. Teamed with elegant rock chick shoes ( Zu) and a Wheels and Dollbaby cardigan this is the evening 'knock 'em dead' outfit.
A more casual long tee-shirt dress was also acquired along with a black classic trench coat to wear with jeans. The dress worn with high heeled, knee high gladiators, or with leggings and black shoes.
Watch Samantha Fallas Testimonial
Next stop :American Apparel for leggings and a couple of casual tops, then dark skinny leg jeans and more tops from David Jones and red shoes from Myer.
My hairdresser Jim opened the Salon to cut, colour and style Sam. He slightly darkening her hair to bring out her blue eyes and adding 'tufts' of lighter brown to give her the rock chic look. During the rest of her grooming process, she learnt how to apply smoky eyes, had her eye brows shaped and tinted darker again to frame her eyes, and of course the manicure and pedicure. Purple on the toes (goes with everything) and a french manicure on the fingers (goes with everything).
The braces came off the day before she flew out and her Prada sunglasses completed the look! Every bit the super star.
Case study Evgenia from Russia
Watch Evgenia's Testimonial
Over two days for work she bought:
1 suit with skirt and trousers
1 suit type dress with matching jacket
5 office shirts (1 short sleeves, 1 silk, 3 cotton with French cuffs)
2 pairs of work shoes black and brown
1 reversible black and brown belt
1 tie
1 pair of cufflinks
2 bags
For dressy going out:
1 going out dress
1 dressy black shoes and hand bag
For casual work or casual going out:
Casual linen/cotton light trousers
2 knitted tops
1 flowing top
1 singlet
2 other tops
4 of the casual tops can also be worn with the suits increasing the number of outfits.
Testimonial
I safely got back home! (to Russia) The results from the full make over with you show - all of the people I met commented on the way I look and my friend told me that the wardrobe that we bought together is just great! I would like to thank you again for the great experience - I know that I will never ever feel like previously again, I feel like I am a new born person!
Earlier you asked me, how I will know that the make over was a success, and I told you that opinion of my good friend was important to me. Well, when we met, I could read in his eyes, that the way I looked was very much worth the effort!
I wish you good luck and all the best. I think you're a great professional and I hope that many people will share my opinion.
Evgenia, Russia
Evgenia lives in a small city Sakhalin in Eastern Russia
With a desire to start 2009 in the beautiful and warm city of Sydney, Australia. Evgenia called me to discuss getting a makeover at the same time. We reviewed her wardrobe via email – she took photographs of her clothes, she was wearing some and others just laid out on the bed. From doing the review it became clear that she has been living her life in mostly dull, boring clothes – many of them black and grey. The mission during the 2 days we spent together (31st December and 1st January) was to find her work clothes including shoes, and going out clothes as she is very sociable.
Specifically she wanted
1. A set of things to mix and match to go to the office in summer (trousers, skirt, dress, top)
2. 2-3 shirts (but not white ones and of an "interesting" design)
3. 2-3 outfits to go out: I do quite a lot of socialising: going out for a drink, meal or to the night club
4. Shoes - 2-3 pairs
5. A really cool fashionable bag

As for the tops, many of the ones I bought, cover the neck, I would like to get away from it, so low-necked cloths are welcome in my wardrobe)))."
The before picture shows her looking great in her typical 'pre Sydney shopping spree' going out outfit.
During our first day together, New Years Eve she had her hair cut and coloured and that evening she wore a new dress that we found in Cue. It's the purple, figure hugging outfit. The following day, she said it was like one of those 'make-over' shows where when she arrived people didn't recognize her and when they did, they said that they hadn't realized what a great body she had!
Evgenia bought some items on sale and others she paid full price. She ended up a little over budget because of the amazing suit type dress and jacket which she loved and bought for its versatility and because she wouldn't find anything like it back in Russia.
The outfits all look great with her colouring, show off her fantastic figure, give her lots of choices with regard to mixing and matching and meet her lifestyle requirements.

*pictures on this page show the power of a makeover and do not necessarily represent work done by My Image Consultant. (Our clients are private people that don't necessarily want their pictures paraded across the internet).The most change can be seen via the confidence that our clients get through our consultations and can really be seen more clearly through their lovely comments. See more lovely comments here and on the home page